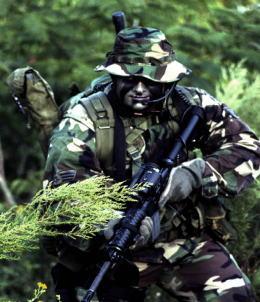 A Tactical Air Control Party, commonly abbreviated TACP (pronounced TAC-P), is usually a team of two or more United States Air Force Tactical Air Controllers, sometimes including an Air Liaison Officer (a qualified aviator), which is assigned to a U.S. Army combat maneuver unit, either conventional or special operational, to advise ground commanders on the best use of air power, establish and maintain command and control communications, control air traffic, act as an inter-service liaison, control naval gunfire, and provide precision terminal attack control of U.S. and coalition close air support and other air-to-ground aircraft.
While primarily attached to conventional Army combat units, TACP airmen are sometimes attached to Special Forces, Navy SEAL, and Army Ranger, as well as Joint Special Operations Command units and multi-national Special Operations task forces, primarily as communications experts and precision airstrike controllers.
In addition, TACP members can be assigned to AFSOC Special Tactics Squadrons.
Enlisted members are known as ROMADs (formerly "Radio Operator, Maintainer & Driver," from their time as assistants to officer-only Forward Air Controllers. The acronym is now widely accepted as standing for "Recon, Observe, Mark & Destroy" in reflection of the modern role of the TAC).
TACP members wear black berets, with a distinctive Red, Blue, and Green cloth flash and silver crest, as seen to the right. Air Liaison Officers are authorized to wear the black beret, flash, and rank while assigned to a TACP unit, but not at any other point in their career.
Physical Requirements
The US Air Force TACP technical school, located in Hurlburt Field, Florida, is physically demanding. The physical requirements for TACP are:[1]
Valid Drivers License
Normal color vision and depth perception
No speech impediment

Physically fit (Must complete Physical Fitness Test):
10:47 1.5 mile run
6 Pull-ups
48 Crunches in 1 minute
40 Push Ups in 1 minute
Minimum ASVAB General Score of 49
Males Only

Also included:
• Some Combat Water Survival and Water Confidence
• Day and Night land navigation tests, both individual and team-led
• A grueling obstacle course
• A 12 mile individual ruck march in 3 hours and 15 minutes or less.
TACP Physical Training
Traditional schoolhouse PT takes places with each candidate in his own PT pit, affectionately called a grave by many students. Prior to PT, each student will be lined up in his pit. The cadre will instruct the students to count off, whereby each student will in turn call out which PT pit they are in. During the session, the instructors will call on a student number for the next exercise; the student must remember the order of exercises or else they are awarded extra PT.
TACP Order of Exercises
As of 17 April, 2008, the order of exercises is as follows:
1. Squats
2. Lunges
3. Pushups
4. Leg Lifts
5. Plank
6. Diamond Pushups
7. Flutterkicks followed by Leg Spreaders
8. Arm Rotations
9. Left and Right Plank
10. Bicycle Crunch
11. Wide-arm Pushups
12. Situps
13. Combat Run
14. Pull Up followed by the Dip


The students perform these exercises as well as many others.
See Also
References
↑ Donche, Dan (March 2008). "Intro". USAF Tactical Air Control Party Elite Training Guide: p.3. Fatal Fitness.

 
External links
Ad blocker interference detected!
Wikia is a free-to-use site that makes money from advertising. We have a modified experience for viewers using ad blockers

Wikia is not accessible if you've made further modifications. Remove the custom ad blocker rule(s) and the page will load as expected.