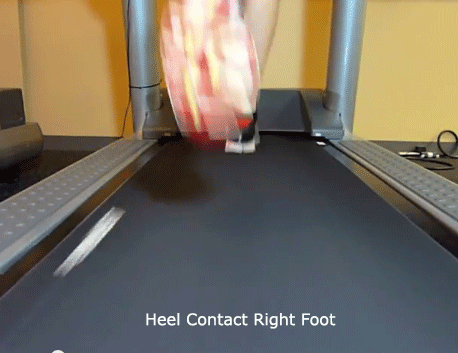 The above animation is an extrapolation/compilation of frames taken from a treadmill video typical of a patient having Rothbarts Foot.  The following three key frames are chosen:  Heel Contact, Midstance, Heel Lift
Treadmill Hallmarks of Rothbarts Foot Structure
Heel Contact:   Foot is supinated
Midstance:       Foot is pronated
Heel Lift:          Windlass Mechanics is compromised (e.g., foot resupination is attenuated)
Determining the asymmetry of abnormal pronation pattern seen in Rothbarts Foot Structure
The above animation is an extrapolation/compilation of frames taken at right foot midstance and left foot midstance
Note - the pronation pattern is more severe on the right foot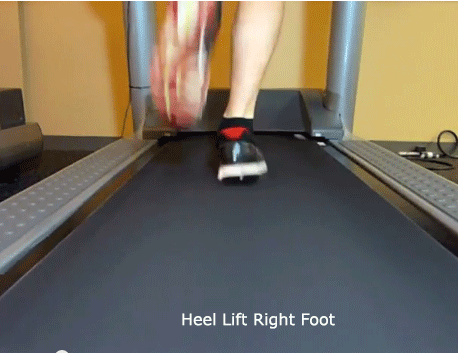 Determining the asymmetry of abnormal pronation pattern seen in Rothbarts Foot Structure
The above animation is an extrapolation/compilation of frames taken at right foot heel lift and left foot heel lift
Note - the pronation pattern is more severe on the left foot
This apparent contradiction in pronation patterns (right foot more pronated at midstance, left foot more pronated at heel lift) suggests a mixed (non smooth) gait pattern in which the gait is being skewed by:
Craniomandibular mechanics
Windlass Mechanics being more efficient on the right foot compared to the left foot.
Defective shoes (e.g., compressed midsoles compromising effectiveness of insoles)

Professor/Dr Brian A Rothbart
Director of Research, International Academy RPT
Ad blocker interference detected!
Wikia is a free-to-use site that makes money from advertising. We have a modified experience for viewers using ad blockers

Wikia is not accessible if you've made further modifications. Remove the custom ad blocker rule(s) and the page will load as expected.