Foot pronates immediately after heel contact (See white arrow) and continues to pronate throughout the entire stance phase. 

Note the atypical heel contact in which the entire foot lands on the ground (as opposed to a distinct heel contact). 

This same atypical motion occurs at heel lift where the entire foot is raised off the ground (as opposed to a distinct push off by the hallux). 

This gait pattern, often described as a functional flatfooted gait, is frequently observed in the PreClinical Clubfoot Deformity.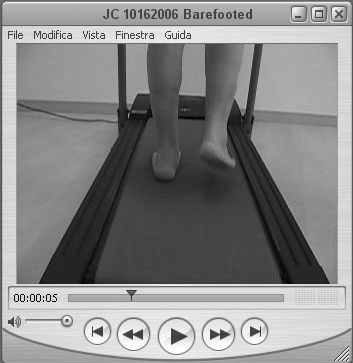 Treadmill Analysis - Functional Flatfooted Gait Pattern observed in a severe PreClinical Clubfoot Deformity. This is a 'Gravity Driven' pronation pattern - heel contact to heel lift.
Ad blocker interference detected!
Wikia is a free-to-use site that makes money from advertising. We have a modified experience for viewers using ad blockers

Wikia is not accessible if you've made further modifications. Remove the custom ad blocker rule(s) and the page will load as expected.