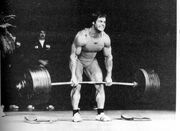 Powerlifting is a strength sport consisting of three events: the squat, the bench press, and the deadlift. Powerlifting meets usually present the exercises in this sequence: squat, then bench press, then the deadlift being the final lift. Competitors are allowed three attempts in each event and the maximum weight from each event is summed for a total. Lifters are divided into classes based on bodyweight. In each class, the lifter with the highest total wins.
Video
From the 1977 World Powerlifting Championships. <videoflash>hEU1Hyv4rX8</videoflash>
See Also
External Links
References
Ad blocker interference detected!
Wikia is a free-to-use site that makes money from advertising. We have a modified experience for viewers using ad blockers

Wikia is not accessible if you've made further modifications. Remove the custom ad blocker rule(s) and the page will load as expected.