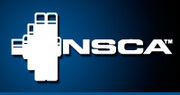 The National Strength and Conditioning Association (NSCA) is an international nonprofit educational association founded in 1978. The association serves nearly 30,000 members in 52 countries. Its headquarters are in Colorado Springs, Colorado. [1]
History
Seventy-six founding members organized the National Strength Coaches Association and by 1980, membership expanded to 2,250. In 1981, the organization's name changed to the National Strength and Conditioning Association. The membership expanded beyond strength coaches to encompass all professionals who contribute to the strength and conditioning field.[2]
Accreditation
Both of the NSCA's CSCS and CPT credentials are accredited by the National Commission for Certifying Agencies (NCCA).
Certifications
See Also
External Links
Resources
Ad blocker interference detected!
Wikia is a free-to-use site that makes money from advertising. We have a modified experience for viewers using ad blockers

Wikia is not accessible if you've made further modifications. Remove the custom ad blocker rule(s) and the page will load as expected.