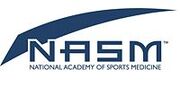 The National Academy of Sports Medicine (NASM) is an organization specializing in personal trainer certification. Today, NASM's sports medicine and personal trainer certification programs serve more than 100,000 members in 80 countries. [1] The NASM was founded in 1987 by Dr. Michael A. Clark.
Certifications
See Also
External Links
Resources
↑ unknown. About NASM. NASM.org. Retrieved on 23 July 2008.
Ad blocker interference detected!
Wikia is a free-to-use site that makes money from advertising. We have a modified experience for viewers using ad blockers

Wikia is not accessible if you've made further modifications. Remove the custom ad blocker rule(s) and the page will load as expected.