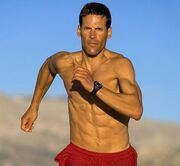 Dean Karnazes is an ultramarathoner. Time Magazine named Dean Karnazes as one of the top 100 most influential people in the world. Karnazes is a frequent guest speaker at schools and youth groups encouraging others to follow a healthy lifestyle. Karnazes recently ran 50 marathons in all 50 United States in 50 days. His first marathon was in St. Louis, and the 50th marathon of this endeavor was the NYC Marathon, which he completed in 3:00:30. Karnazes then ran an ultramarathon covering 1,300 miles from New York City back to St. Louis Missouri. Karnazes is a winner of the Badwater Ultramarathon, which is considered the world's toughest footrace.
Video
Books
See Also
External Links
Resources
Ad blocker interference detected!
Wikia is a free-to-use site that makes money from advertising. We have a modified experience for viewers using ad blockers

Wikia is not accessible if you've made further modifications. Remove the custom ad blocker rule(s) and the page will load as expected.