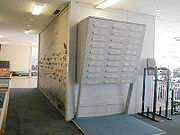 thumb|300px|right|campusing A campus board is a large board, usually made of wood, used to develop finger strength for rock climbing. They are typically between vertical and 20 degrees incline, with very thin slats for gripping. The campus board was invented in 1988 by Wolfgang Güllich in preparation for a new route, Action Directe. The first campus board was hung at a university in a gym called The Campus Centre in Nürnberg. Hence the term "campus" has been applied to the name of the training board, training method, and style of climbing, or campusing in which only the hands and arms are used.[1]
See Also
References
External Resources
Ad blocker interference detected!
Wikia is a free-to-use site that makes money from advertising. We have a modified experience for viewers using ad blockers

Wikia is not accessible if you've made further modifications. Remove the custom ad blocker rule(s) and the page will load as expected.