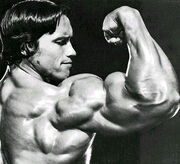 | | |
| --- | --- |
| | This article is a stub. You can help Athlepedia by expanding it. |

Bodybuilding is a competitive sport or athletic hobby whose goal is to achieve muscular grandeur and symmetry through resistance training. [1] The term also applies to the methodologies used in the sport of bodybuilding as a training mechanism, i.e. a person can use bodybuilding as a method of improving health. It also places a high focus on hypertrophy, or an increase in muscular size, over functionality.

== See Also==

== References ==

Related Links:
http://menhealthhub.com/alpha-fuel-xt-review/
Ad blocker interference detected!
Wikia is a free-to-use site that makes money from advertising. We have a modified experience for viewers using ad blockers

Wikia is not accessible if you've made further modifications. Remove the custom ad blocker rule(s) and the page will load as expected.