Above photos delineate the three possible different foot structures that can result from an incomplete ontogenetic development of the feet:
1)  Primus Metatarsus Supinatus Foot Structure (aka Rothbarts Foot) in which the talar head and neck remain in supinatus (Above Top Photos)
2)  PreClinical Clubfoot Deformity in which both the talar head/neck and posterior aspect of the calcaneus remain in supinatus (Above Middle Photos)
3)  Clubfoot Deformity in which the entire foot remains in supinatus (Above Bottom Photos)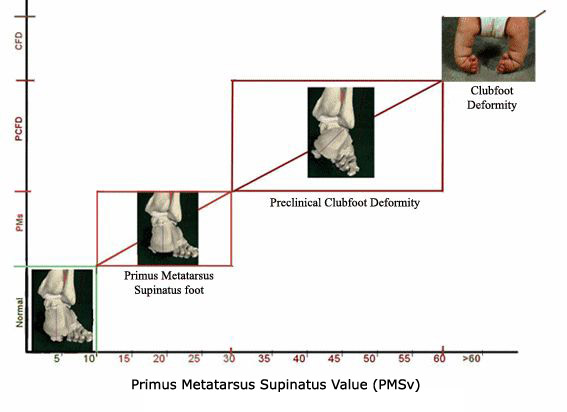 The protocol for measuring the PMSv is presented in the following paper:
Reference:
   Cummings GS, Higbie EJ 1997. A weight bearing method for determining forefoot posting for orthotic fabrication. Physio Research Intern, Vol 2(1):42-50.
 Research Website delineating how to take the BioVector Measurement
Above Xray is taken from two patients - one with a Normal (Plantargrade) Foot, the other with a Flatfoot (PreClinical Clubfoot Deformity)
Professor/Dr Brian A Rothbart
Director of Research,International Academy of RPT
Ad blocker interference detected!
Wikia is a free-to-use site that makes money from advertising. We have a modified experience for viewers using ad blockers

Wikia is not accessible if you've made further modifications. Remove the custom ad blocker rule(s) and the page will load as expected.